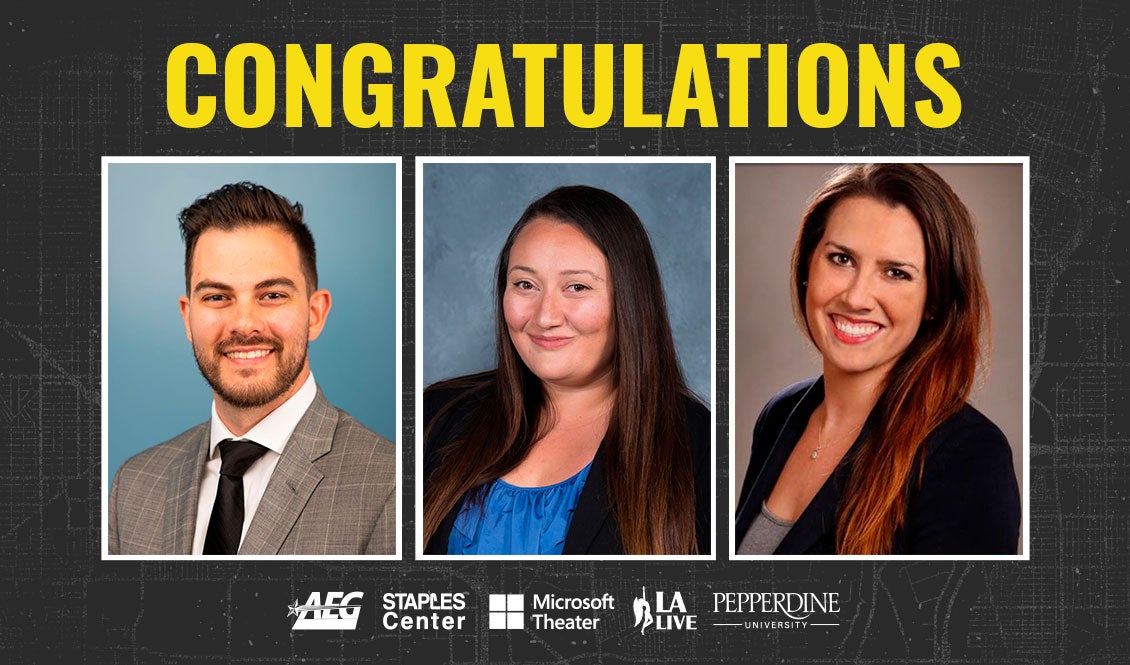 January

25

, 2021
AEG STAFF COMPLETE PART-TIME MBA PROGRAM UNDER INNOVATIVE PARTNERSHIP BETWEEN AEG AND PEPPERDINE UNIVERSITY
Los Angeles, CA (January 25, 2021) – In 2020, three AEG employees graduated from the Pepperdine Graziadio Business School Fully Employed Master of Business Administration (FEMBA) program as a result of the unique partnership formed between AEG and Pepperdine University (Pepperdine) in 2016. As part of the partnership, brokered by AEG Global Partnerships, a number of AEG's staff members were afforded the chance to participate in the University's prestigious MBA program, helping make this momentous achievement possible four years later.
Congratulations to STAPLES Center, Microsoft Theater, and L.A. LIVE employees Brittney Garza, security operations manager; Austin Caldwell, director premium business intelligence; and Kayla Kilpatrick, event sales manager, for earning their MBA degrees. Garza received hers in August 2020 while Caldwell and Kilpatrick graduated most recently in December 2020. Both Caldwell and Garza earned their degrees with a concentration in global business, and Kilpatrick graduated with a concentration in leadership and managing organizational change. Caldwell and Kilpatrick both graduated with honors as a member of Beta Gamma Sigma, the international business honor society for AACSB-accredited schools.
Pepperdine and AEG formed an innovative partnership, which began in the fall of 2016 with one goal in mind: to work together to create world-class educational programs in sports and entertainment management. Since that time, Pepperdine has been named the exclusive Education Partner of STAPLES Center, L.A. LIVE, and the LA Kings, and the two organizations have engaged in an unprecedented collaboration, advancing the University's goal to position itself as a highly visible and active participant in the vibrant Los Angeles community.
"We are incredibly proud of our partnership with Pepperdine, which has allowed us to work in support of education as well as the next generation of leaders in the sports and entertainment industry," said Nick Baker, chief operating officer, AEG Global Partnerships. "These most recent graduates are a testament to this great relationship, and we look forward to seeing their careers and achievements grow both at AEG and across the industry at large."
"I am extremely proud that, through Pepperdine's partnership with AEG, we at Graziadio have had the opportunity to form and support tomorrow's sports and entertainment leaders with a premiere business education," said Deryck J. van Rensburg, dean of the Pepperdine Graziadio Business School. "I have no doubt the exceptional students from AEG will become Best for the World Leaders. We at Graziadio look forward to innovating and expanding upon the AEG partnership."
Through its relationship with AEG, Pepperdine remains steadfast in its commitment to leadership in entertainment, media, and sports as the University's portfolio of innovative academic programs continues to grow. AEG and Pepperdine also partnered in the launch of a new internship program, which has offered more than 30 Pepperdine graduate and undergraduate students the opportunity to work directly with AEG and STAPLES Center professionals in a major sports venue.
In 2018, as part of the partnership, Pepperdine and AEG successfully executed the planning, construction, and grand opening of a one-of-a-kind classroom inside STAPLES Center, combining the aesthetic sensibilities of an academic arena with an inviting sports-accented hospitality and event facility. The STAPLES Center classroom has also been an exceptional space for alumni, academics, and events, including special speaker engagements and classes. Pepperdine's academic programming is designed to give students unprecedented access to the business acumen behind the world's leading sports and live entertainment companies, beginning with AEG. The Pepperdine Graziadio Business School launched an MBA concentration in entertainment, media, and sports management, complementing the University's popular undergraduate sport administration major and the LLM in entertainment, media, and sports law offered by Pepperdine Caruso School of Law.
In order to be eligible for the corporate partner FEMBA program, applicants must have a minimum of two years work experience at AEG and must have received a bachelor's degree in science, technology, engineering, and mathematics (S.T.E.M.) or business with a minimum 3.0 GPA, making potential students eligible for the GMAT to be waived in order to be accepted into the program.
As part of the valued partnership, in 2019 the Graziadio Business School awarded one student the opportunity to receive a $50,000 scholarship in honor of the school's 50th anniversary celebration, which was granted to Caldwell.
In an effort to provide AEG employees resources for personal and professional development, the Graziadio Business School also offers all employees a 10 percent tuition scholarship annually towards any MBA or MS degree program. This mutually beneficial partnership gives AEG employees the opportunity to further their development and education while immediately implementing their learning into their role at AEG.
Pepperdine offers five graduate campus locations across Southern California in Calabasas, Encino, Irvine, Malibu, and West Los Angeles to make learning achievable for employees from all over the Los Angeles metropolitan area and beyond. In addition to small class sizes and applied learning relevant to careers at AEG, degree programs are also accredited by the Western Association of Schools and Colleges Senior College and University Commission (WSCUC), one of six official academic bodies in the United States. The business school is also accredited by AACSB International, the Association to Advance Collegiate Schools of Business, an accreditation achieved by fewer than five percent of business schools worldwide.
The relationship between AEG and Pepperdine is a highly collaborative partnership with future engagements that will include bringing AEG executives into the classroom as part of a guest speaker series in order for students to learn firsthand from the talented people who make AEG the world's leading sports and entertainment company. Both AEG and Pepperdine are proud of the recent graduates, as well as the continued success of the partnership, which has allowed both organizations to join together and create a one-of-a kind educational experience set to inspire the next generation of leaders.
ABOUT AEG
Headquartered in Los Angeles, California, AEG is the world's leading sports and live entertainment company. The company operates in the following business segments: Facilities, which through its affiliation with ASM Global, owns, manages or consults with more than 300 preeminent arenas, stadiums, convention centers and performing arts venues around the world; Music through AEG Presents, which is dedicated to all aspects of live contemporary music performances, including producing and promoting global and regional concert tours, music and special events and world-renowned festivals such as the Coachella Valley Music and Arts Festival; Real Estate, which develops world-class venues, as well as major sports and entertainment districts like STAPLES Center and L.A. LIVE, Mercedes Platz in Berlin and The O2 in London; Sports, as the world's largest operator of high-profile sporting events and sports franchises including the LA Kings, LA Galaxy and Eisbären Berlin; and Global Partnerships, which oversees worldwide sales and servicing of sponsorships including naming rights, premium seating and other strategic partnerships. Through its worldwide network of venues, portfolio of powerful sports and music brands, and its integrated entertainment districts, AEG entertains more than 160 million guests annually. More information about AEG can be found at www.aegworldwide.com.
ABOUT PEPPERDINE UNIVERSITY
Founded in 1937, Pepperdine University is an independent, Christian university located 30 miles west of downtown Los Angeles in scenic Malibu, California. The University enrolls approximately 9,500 students across its flagship liberal arts school, Seaver College; the Caruso School of Law; the Graziadio Business School; the Graduate School of Education and Psychology; and the School of Public Policy. Pepperdine is committed to the highest standards of academic excellence and Christian values, where students are strengthened for lives of purpose, service, and leadership. Follow Pepperdine on Facebook, Twitter, Instagram, and LinkedIn.
Media Contacts:
Michael Roth, AEG – mroth@aegworldwide.com
Cara Vanderhook, STAPLES Center/Microsoft Theater – cvanderhook@aegworldwide.com
Samantha Marker, STAPLES Center/Microsoft Theater – smarker@aegworldwide.com
Shannon Donnely, Beck Media - shannon.donnelly@beckmedia.com
Alex Forero, Pepperdine University - alex.forero@pepperdine.edu