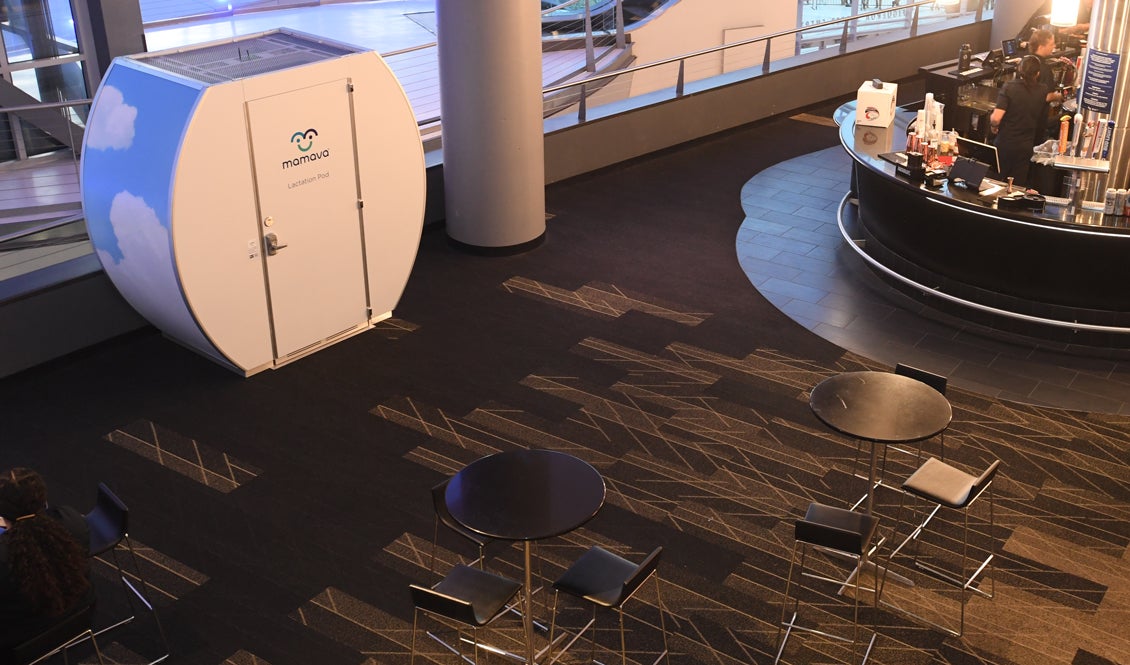 October

3

, 2023
Crypto.com Arena Elevates Guest Experience With Five Mamava Lactation Pods
The Downtown Los Angeles Arena Creates Inclusive Experience Supporting Guests, Fans and Team Members
Los Angeles, October 3, 2023 — Today Crypto.com Arena, one of the most iconic and globally recognized sports and entertainment arenas in the world, debuted five Mamava Lactation Pods, creating an inclusive experience for guests as well as meeting the needs of breastfeeding employees who need private pumping accommodations.
The Mamava pods are placed strategically across the arena, with two on the Main Concourse, one on Premium Level A, and two on the Upper Concourse. Mamava is transforming the culture of breastfeeding by making it easier for more parents to pump or nurse at work and on the go. Mamava's freestanding lactation pods are intentionally designed to provide a comfortable and private option to breastfeed or pump. The pods can be accessed through the free Mamava mobile app, which helps parents find thousands of lactation spaces (not just Mamava pods) and empowers parents to share encouraging "Words of Support" notes with other breastfeeding parents.
"Providing all of our guests and team members with a safe and inclusive experience at Crypto.com Arena is our number one priority," Amber Watts, Senior Director, Guest Services, Crypto.com Arena. "By partnering with Mamava and providing nursing parents an exclusive place to breast pump or feed a baby while attending an event in a safe and distraction free area is a wonderful addition to our guest experience."
"We're thrilled to support breastfeeding at Crypto.com Arena," says Sascha Mayer,
Cofounder and Chief Experience Officer of Mamava. "We believe that all breastfeeding parents deserve a dignified place to breast pump or feed a baby distraction-free—anywhere, anytime. Crypto.com Arena is not only making it easier for parents to get out and enjoy sporting events and shows but also helping to normalize breastfeeding and increasing equitable access to
lactation support for the next generation."
Media Contacts:
Cara Vanderhook
Crypto.com Arena
(213) 448-8310
Ann Pechaver
Mamava PR
(802) 578-7512
About Mamava
Mamava is dedicated to transforming the culture of breastfeeding. The category creator of freestanding lactation pods, Mamava provides breastfeeding parents with private, dignified, and comfortable spaces to pump or nurse—at work and on the go. The free Mamava app helps breastfeeding parents find thousands of lactation spaces and unlock Mamava pods (available for iOS and Android). Women-founded and a proud B Corp, Mamava designs, engineers, and assembles lactation pods at their manufacturing facilities in Vermont. Founded in 2013, Mamava has delivered thousands of lactation pods to organizations that span airports, hospitals, stadiums, schools, small businesses, and Fortune 500 companies. To learn more about Mamava's full product line and lactation support resources, visit mamava.com and follow Mamava on Instagram, X, Facebook, and LinkedIn.
About Crypto.com Arena
Crypto.com Arena has undoubtedly developed an unrivaled reputation for excellence having established itself as one of the world's busiest and most successful venues in the world. As the home of four professional sports franchises – the NBA's Los Angeles Lakers and LA Clippers, the NHL's LA Kings and the WNBA's Los Angeles Sparks – Crypto.com Arena has proven to be a home court advantage for the local teams. The AEG owned and operated arena continues to distinguish itself as the host of major, high-profile events of national and international distinction including the 2004, 2011 & 2018 NBA All-Star Games, 2002 & 2017 NHL All-Star Game, 2000 Democratic National Convention, 2009 World Figure Skating Championships and 20 GRAMMY Awards shows. Crypto.com Arena twenty-three years have also been marked with performances and special events that brought international stature to the downtown Los Angeles venue including concerts Taylor Swift, Drake, Beyoncé, Prince, U2, Paul McCartney, Garth Brooks, Usher, Jay-Z, Keith Urban, Roger Waters, Britney Spears, Katy Perry, Ed Sheeran, Kendrick Lamar, Michael Bublé, Carrie Underwood and Justin Timberlake, as well as world championship boxing, family shows and special events. Hosting over 250 events a year, the arena's reputation for world-class amenities, features and commitment to quality of service and the guest experience is second to none. These include comfortable seating, state-of-the-art sound and lighting systems, concession stands offering a variety of food and beverages, and merchandise stores where fans can purchase team-related memorabilia. Crypto.com Arena is not only a great venue for sports and entertainment, but it also holds a special place in the hearts of the local community. It has witnessed numerous historic moments, unforgettable performances, and has become an iconic landmark in the city of Los Angeles.