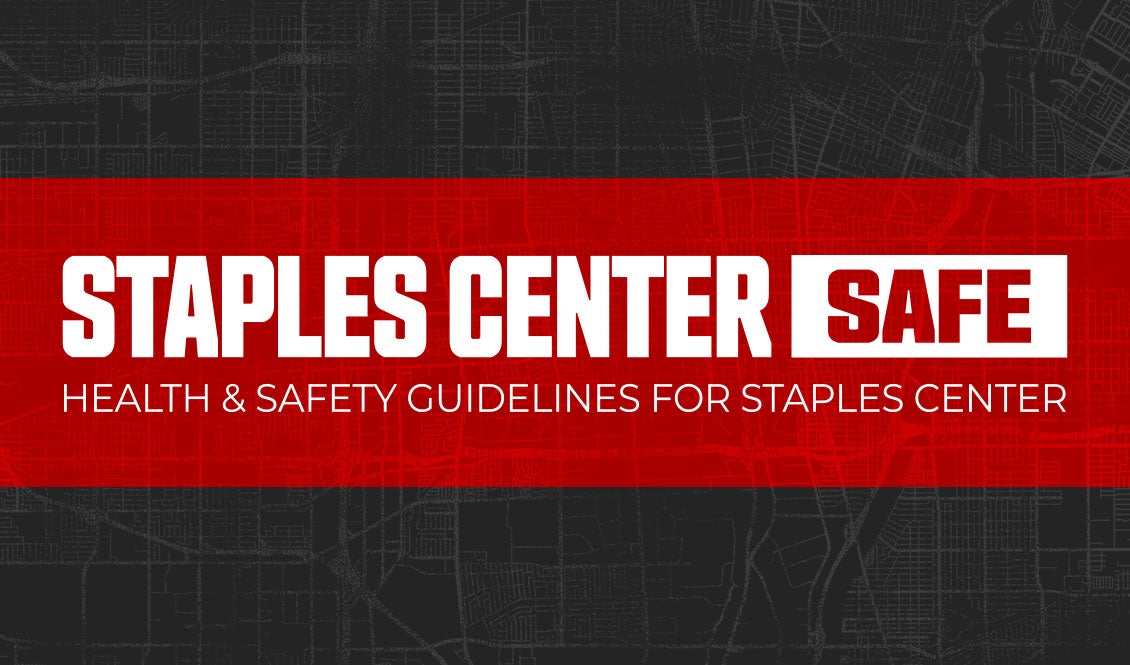 April

13

, 2021
STAPLES CENTER SET TO WELCOME FANS BACK
IMPORTANT NEW POLICIES AND PROCEDURES FOR GUESTS ANNOUNCED
APRIL 15TH – LAKERS VS. CELTICS AT 7 PM
APRIL 18TH – CLIPPERS VS. TIMBERWOLVES AT 7 PM
APRIL 20TH – KINGS VS. DUCKS AT 7 PM
Los Angeles, CA (April 13, 2021) – STAPLES Center will welcome fans for the first time in more than a year beginning this Thursday, April 15th when the Los Angeles Lakers take on the Boston Celtics. The LA Clippers and LA Kings will also host their first fan-attended games beginning April 18th and April 20th respectively. Strictly following the all of the safety protocols and procedures introduced by the State of California, County of Los Angeles, NBA and NHL, STAPLES Center's management team has additionally invested in numerous facility upgrades while adopting new policies to ensure every precaution has been taken to provide the safest venue so that guests will feel safe and confident returning to the arena and cheering on their favorite team.
Ticketed guests are encouraged to visit www.staplescenter.com/SAFE to familiarize themselves with STAPLES Center's "Know Before You Go" tips and protocols prior to attending their first event and revisit the website often as new procedures are all subject to change.
1) Health Verification - A health verification is required for all ticketed guests. Guests are required to present a photo ID, and either proof of full vaccination (two weeks since your final dose) or verification of a negative COVID-19 test within 72 hours of the event date. Guests can show a hard copy or digital copy of their proof of vaccination or negative COVID-19 test. Remember, if you're not feeling well, please stay home!
2) Mobile Ticketing & Entry Process – All ticketed guests will be required to have their tickets to the event on their mobile device. Pre-paid, digital parking passes will also be available for all events via AXS.com
3) Face Coverings Required - Guests over the age of two are required to wear a face covering that covers both the nose and mouth at all times. Gaiters, bandanas, and coverings with exhalation vents are strictly prohibited; a face shield still requires a face covering. For the safety of everyone, guests unable to wear proper face coverings will not be admitted into the venue.
4) No Bags - Bags and purses of any size are not permitted, including backpacks, clutches, totes, clear bags, and camera bags. Only bring necessary items that fit in your pocket. Wallets without chains/straps are allowed. Please leave all personal belongings securely in your home or hotel room. For your convenience, rental lockers are available outside of the venue on a first come, first serve basis.
5) Keep Your Distance - Practice safe physical distancing of at least six feet from others not in your household.
6) We're Fans of Clean Hands - Clean your hands often by washing with soap water for 20 seconds or using hand sanitizer. There are touchless hand sanitizer stations, faucets, paper towel dispensers, and soap dispensers throughout the venue.
7) Cashless - STAPLES Center is a fully cash-free venue that only accepts debit and credit cards, including major contactless and mobile payment methods, for a safe and speedy check out. Cash is no longer accepted in STAPLES Center. If you do not have an accepted cashless method of payment, free of charge "Cash to Card" conversion kiosks are located throughout the venue.
8) Mobile Ordering Food & Beverage – All guests will be asked to order any food and beverage throughout the arena using the QR Code located at the concession stand or the QR located at your seat. We will let you know when the order is ready for pick up via SMS Text. Pick up your food and beverage at the designated pick up location. Enjoy your food and beverage at one of the designated eating areas. No food and beverage will be permitted inside the seating area of the arena.
9) GBAC STAR Facility Accreditation - Because your health and safety are our top priority, we've made many upgrades and enhancements to ensure that all of STAPLES Center, even the air that you breathe, meets or exceeds industry standards to guarantee STAPLES Center is the safest and most hygienic it can be. We use Atmos Air and Enerjetico technology to purify the air inside the arena, and MERV-15 air filters which exceed the current standards. High-touch surfaces and heavily trafficked areas are continuously disinfected, and all spaces undergo a rigorous disinfection and cleaning after every event. We're proud that these improvements have earned us the highest level of GBAC STAR Facility Accreditation as determined by the world's most respected venue industry cleaning association.
Tickets guests are also encouraged to watch this video prior to attending an event as it details all the information outlined above.
Prevention is the key to stop the spread of any virus. Keeping the venue disinfected and sanitized before, during, and after events is one of our top safety priorities. STAPLES Center uses EPA-approved products with enhanced cleaning equipment to disinfect all surfaces beyond just all-purpose cleaners as part of our enhanced cleaning service. Switching from all-purpose or general cleaners to EPA-registered disinfectants further prevents the spread of pathogens while following strict disinfection procedures.
STAPLES Center has increased frequency of cleaning with disinfectants in high traffic areas as an additional measure to help protect our venue and occupants. Partnering with ABM, we've identified high traffic areas, analyzed guest flow patterns, and used occupancy levels to determine our specific sanitization needs. As fans begin to return to events, these patterns and procedures will continue to be evaluated on a regular basis.
STAPLES Center has additionally installed 13 fitted UVC handrail cleaners through the arena's escalators, all faucets, soap dispensers, paper towel dispenser and flush valves are now touchless. NanoSeptic Skins and mays that turn high traffic public touch points into continuously self-cleaning surface have been installed on over 1,000 door handle covers, 250 emergency exit crash bars, ten elevators with all buttons covered on the interior and exterior on all levels of the arena.